3 Important Things to Consider Before You Hire A Real Estate Broker
Whether you are selling or buying a house it is always wise to hire a broker as he will take care of all the paperwork and visits to the public offices. Hiring a reputed broker will ensure that all the legal formalities are fulfilled in the purchase or sale of a house. If you wish to hire a competent broker, you need to do your homework first.  Here are the four most important things to consider before you hire a broker for your real estate deal.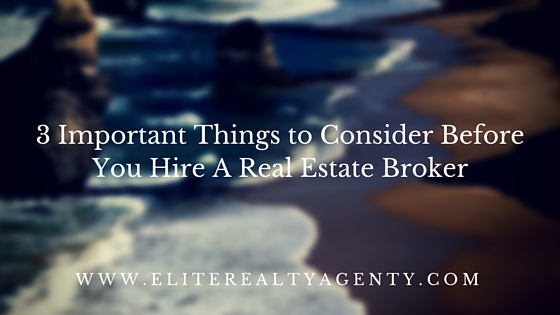 Pick a Licensed Dealer/ Broker
All the states of this country have boards that provide license to the real estate agents so that they can operate in the market and provide services to their clients. This license of any particular agent can be checked from the website of your state's regulatory body. Hiring a broker without a license guarantees that you end up with a raw deal.
Ask Around
Word of mouth regarding dealers and brokers will give you an idea about who is the most sought-after real estate broker in your neighborhood. Ask your friends and family members if they know a trusted real estate agent. You will probably get names of few competent brokers from your friends and family. But don't just blindly rely on their recommendation; check online reviews regarding a particular broker. This will give you an idea about an agent's standing in the market.
Experience Counts
You should ask the agent or should check out the State Licensing Authority about how long the agent has been in the real estate business. An agent with a vast experience in this business will have a lot of contacts ensuring that you will get the best deal, whether you are buying or selling a property.
Credentials Make an Agent Trustworthy
Dealing or investing in real estate is a full-fledged discipline and is taught in most of the universities around the world. Most real estate brokers pass certain exams to acquire credentials so that they are able to acquire clients and are able to close deals successfully. Just like CFA is the most popular credential on the Wall Street, REALTOR® is popular among real estate agents. By acquiring this credential you will be required to adhere to the code of ethics drafted by National Association of Realtors.
When buying a home for personal living or investment purposes choosing the right real estate agency; one that makes sure that your needs are met, is imperative. Elite Realty Agency is one of the most trusted names in the real estate business in Florida, and has been providing superb services to its clients for the past 11 years. Visit our official website to find out more about us or click here to check out our facebook page. You can also call us at 1-407-574-3962 for more information.